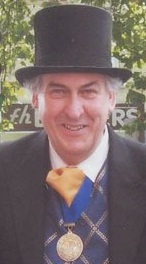 2018
It has been sometime since I have been able to bring information on this website up to date. That probably means we have been busy!
On the railway modelling front a great deal of work has gone into building a new version of the O gauge "coarse-scale" layout. The whole venture has had a chequered history and has changed size and format several times. Meanwhile we took the vintage "Gauge 2" layout ("Smoghampton") to the Large Scale Model Show in March where it was spotted by the editor of a magazine called "Garden Rail". This resulted in a well-illustrated article on the railway appearing in that magazine. The irony is that it is not a garden railway at all but it just happens to be built in a scale that sane people would normally expect to use in the garden.
If you haven't come across Smoghampton before, I had better explain that it was built to exhibit some pre-First World War equipment that was bequeathed to me by my childhood mentor, Francis Ashley. He had collected the models during the 1950s when nobody wanted it and left some of it to me with the proviso that I exhibited it - something he was never able to do. Every time we exhibit it we always say that it will be the last time we do so. The "we" in this case consists of me and my long-time friend Peter Berry, and it is Peter who has helped me press on with the O gauge exhibition layout in its new 12ft by 8ft form. This will be premiered at Cradley Heath Model Railway show on 13th October 2018 and will go on to appear at the Large Scale show in March 2019.




Ned Williams
Ned Williams