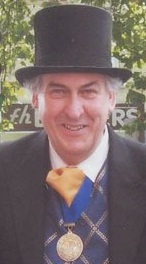 The Year of The Lock-Downs
An update: 2020 running into 2021
Even without the lock-downs and the Coronavirus 2020 has been a year of change and re-direction. The last Uralia Press publication was launched at the end of 2018: "Four Swallows and Two Elephants", and much of 2019 was spent giving talks related to this book - and, of course, selling copies of it. As it happened 2019 was also the 250th Anniversary of the invention of the circus and as there is quite a strong circus presence in that book, the two things tied together.



Ned Williams
Ned Williams


2020 began with a personal change of circumstances when Gill and I were married on the 15th February in Dudley. It was the day that Hurricane Dennis unleashed a downpour - perhaps a sign that 2020 was going to be "different". A month later all the talk was of the Corona-Virus and "lock-downs". Book sales came to a complete halt at the same time as talks disappeared from my normal "routine". All this has happened as I was beginning to doubt the practicality of further book production. However, we are left with something of a disposal problem which I will come back to later.
Despite the lock-downs we have not been idle. In fact, very early on it was apparent that much time could now be devoted the research - perhaps catching up with projects that remained in "awaiting attention" tray for years. Research is now very different to the good old days of visiting real people, real archives and real libraries all over the country. Now research means sitting at the laptop keyboard and exploring all sort of digital material now available on the Internet. It can still be very time-consuming, but it opens up new possibilities. Just being able to make a word- search of digitised newspapers has been wonderful.
The result of being able to use these new opportunities has been a rash of compiling biographies - all turning into nicely obscure articles for pretty obscure magazines. My first experience of writing a biography goes back to the work on Pat Collins which was done during the second half of the 1980s - the biography came out in the autumn of 1991. In a way I have never looked back - working on a biography has all the pleasure of story-telling with the added thrill of a treasure hunt! "Four Swallows and Two Elephants" presented a series of fascinating biographies and one thing that became a big issue in producing that book was the quest to meet descendants of the people being researched. This frames the background to events of 2020.
Although this biographical work is unlikely to add up to a book, it has produced a number of magazine articles and I will append a list of these. If you would like to read the text of any of these essays, make contact we will send it off to you as an attachment to an email - or could even print it off for you and put it in the post. At the moment this is offered as a free service because my satisfaction will be that these stories are being read. I can't promise that they will be laid out as nicely as some of them look in magazine form, but I'll include some illustration.

As mentioned above one exciting aspect of this activity has been the "break-through" moment when we have been able to make contact with the living descendants of the subjects of my biographical research. In most, but not all, cases we have not met people in the flesh - but maybe we will catch up with them in 2021. Once again, the Internet, and the dreaded email, have been our salvation!

Biographical texts waiting to be read:
"The Man Who Built the Coronet" - the life story of Cecil Couper (1885 - 1937).
I first wrote about Cecil Couper when producing "Cinemas of the Black Country" (1982) but it was great to produce a reasonable account of his life - travelling with nineteenth century "Myriorama" shows and eventually owning his own chain of little cinemas in the villages of the Black Country, including the Coronet (Quarry Bank) and the Forum (Pensnett)

"Inez and Pim" - the life story of Myra Couper (1884 - 1947)
Myra was Cecil Couper's wife - whom he met when they both worked on Poole's Myriorama Show. After the birth of her first daughter, Myra began a new career as an acrobat - part of double act known as "Inez and Pim". She was "Inez" - but who was "Pim". While telling Myra's story we explore the mysterious identity of Pim, a.k.a Jack Volta: acrobat and pantomime cat!

"Two Decades of Song & Dance in the Black Country" - the story of Celia Couper (1920 - 2001)
Celia was the second daughter of Cecil and Myra Couper. For two decades she threw herself into a life devoted to singing, dancing and putting on shows, mainly presented in the Brierley Hill and Stourbridge areas. She was the remarkable daughter of remarkable parents!
All these three stories were told because Celia's daughter, Christine, made a fantastic family archive available to me - providing a wealth of information and photographs.

"The Search for Thomas Jackson" (1869 -1941)
Thomas Jackson was a Wolverhampton-based baker and confectioner who went into the cinema business with enthusiasm and entrepreneurial skill - opening five cinemas in 1912 and then acquiring others. I first researched his activities for the 1982 publication: "Cinemas of the Black Country" but was frustrated by the fact that he simply "disappeared" in 1922. For almost forty years his fate remained a mystery to me but the lock-down provided time for new intensive research and I discovered how Thomas went on to another life in the cinema business - first in Coventry and then in Bournemouth. We made contact with his descendants and then….

"Wolverhampton's Champion Jumper": Joe Hastings (1874 - 1937)
Many people have heard of the famous Dudley Jumper - Joe Darby - so I am pleased to put the record straight and tell the story of a Wolverhampton born "Champion Jumper" - more a story of a life in entertainment than athletics! It's a life full of adventure, romance, theatres, circuses, a train crash, and lots of ups and downs. Eventual contact with the descendants of Joe Hastings provided some great visual material to bring the story to life.
"Buff Bill's grandchildren": Norah (1916 - 2003) and Billy Kayes (1918 - 1992)
I first met Billy Kayes in his Bingo Parlour in Great Bridge while working on the biography of Pat Collins. He put me in touch with his sister Norah, whom I first met in November 1990. They both had wonderful life stories to tell. Their father was Richard Kayes - one of the many children of the legendary Buff Bill. They grew up on their father's small circus but their lives also took them into the fairground world. Norah married John Collins - one of Pat Collins' grandchildren.

"Young Pat": Patrick Ross Collins (1886 - 1966)
Young Pat was the son of Pat Collins - King of Showmen. I had always wanted to explore Young Pat's life - ever since working on his father's biography. It has been quite a difficult life to research and a difficult story to tell, partly because Young Pat himself surrounded his life with some intriguing mysteries. At the heart of the story is the relationship between a "king" and a "prince".

"The Second Mrs. Collins": Clara Mullett (1880-1962)
This was another "by-product" of my research into the life of Pat Collins. Clara has always seemed a more "real" character than Pat's first wife, simply because she lived into an era that is still, just about, within living memory. Recent research meant a better story of her life could be told - throwing more light of the people who surrounded Pat Collins.

"A Bridge with a History": Clarence Krabbe (1886 - 1985)
In 1991 Francis Ashley, one of my childhood mentors, died and left some Gauge 2 model railway items to me in his will. The equipment included a 7ft long wooden girder bridge which had apparently been built in 1913 for a Mr. C.K. Krabbe. The full life story of the bridge still remains a bit of a mystery, but I have found out about the life of Mr. Krabbe. Not long before his death he dictated an autobiography to his daughter and even mentions the bridge! Contact with his grandson has added to the story of this bridge.
What's Happened to Uralia Press?
As mentioned above, book sales dried up in 2020, and we are now anxious to dispose of stocks so now is the time to invest in some bargains. As a result of the way in which book production went in previous years, we are left with lots of copies of "The Gornals, Vol 2" and "Four Swallows and Two Elephants". The cover price on these books is £13.50 but we now want to sell them at £3 plus £2 postage. Over recent years I have "bought-back" second hand copies of my out-of-print books and therefore it is worth making contact if there is such a book that you are after. We won't build up stocks of such things in future! There are still many of my books that now seem difficult to obtain even on the second-hand market. Although now retired from book production, I am still interested in hearing from people who share my interests so please feel free to contact me via the website.
(Interests include: The Black Country, railways, transport in general, cinemas, shops, chapels, banners, photography, the world of entertainment: theatre, cinema, circus and fairground.)